Acupressure Slippers The Pressure Relief Foot Massage Slippers
Regular price $60.00 $28.95 Save $31.05
It is believed by all reflexologists that the sole of the foot mirrors the body, with the left foot reflecting the left side of the body and the right foot the right side. Hence, it is deduced that pressing the sole in the opposite place will cause an advantageous effect to be felt in the respective part of the body.
As mentioned, a perceptive area in the foot indicates a problem in the consequent organ in the body. Pressing on the appropriate trouble-spot can be an effective way of relieving pain and helping to restore the body's natural balance. It can also reduce stress, improve circulation, accelerate metabolism and revitalize energy levels.
These Acupressure Slippers designed to soothe foot/ heel pain & tension due to arthritis, neuropathy, plantar fasciitis. Promotes better blood flow to enhance overall health.
Wear this therapy massage slippers for 15mins each time
 

NOT all day
. These acupressure slippers might hurt for the first few times using them; however, simply add a pair of socks and shorten the wearing time while your body adjusts to the pressure sensation.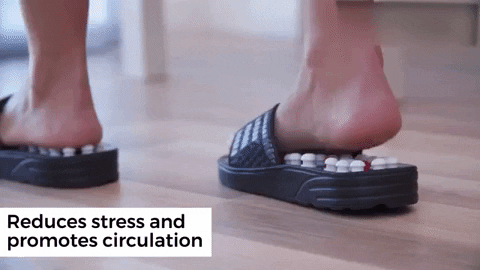 these 
Acupressure Massage Slippers
 were created to heal your body, through your feet!
Improves your blood circulation and metabolism.

Relieves aches and pains such as headaches, migraines, neck pain, backaches.

Relax your tired feet and make you sleep better.

Helps with plantar fasciitis, arthritis, neuropathy pain.

Massage magnetic moxibustion active material both general prevention shoes general four seasons, when the spring raised particles is made, it causes this product to have efficacies of deodorization and antiseptic.
TOP 10 HEALTH BENEFITS
1️⃣ Lowers Blood Pressure - High blood pressure, also called HBP or hypertension, can be controlled with a regular foot massage. Studies have also found that foot reflexology may help reduce systolic blood pressure and triglyceride.
2️⃣ Promotes Better Sleep - One of the benefits of foot reflexology is regular good sleep. A soothing and relaxing foot massage will help the body unwind, improve blood circulation and relax the nerves. These in turn will encourage restful sleep.
3️⃣ Fights Depression - According to a popular Journal called Reflexology Therapy, foot massage through reflexology slippers, provides consolation, helping people to balance the need for stress and demands of daily life.
4️⃣ Relieves Aches and Pains - Foot reflexology also helps alleviate backaches. Schedule at least a 30-minute walk using reflexology slippers daily. Also, massage the soles and tops of your feet.
If you have neck pain, then walk for 5 minutes at a stretch wearing acupressure footwear firmly and soon the pain will vanish.
Reflexology slippers reduce pain and swelling in the ankle and help you get relief from headaches and migraines if used regularly for a daily 30-minute walk.
To relieve thigh pain or lower back pain, apply pressure by wearing reflexology slippers for few minutes, to soothe the nerve tendons between the outer ankle bone and the Achilles tendon.
5️⃣ Eases PMS and Menopause Symptoms - Many older women suffer from classic symptoms of sadness, irritability, insomnia, bloating, fatigue, headaches, and mood swings during premenstrual syndrome (PMS).
These can be treated by reflexology slippers. Even symptoms of menopause like depression, knee aches, and hot flashes can be effectively healed with acupressure footwear.
6️⃣ Cure Restless Leg Syndrome - One of the benefits of acupressure footwear is curing restless leg syndrome, a kind of neurological disorder. Restless leg syndrome may cause problem sleeping, due to uncanny sensations like throbbing, pulling and the tendency to move your legs. Acupressure sandals put adequate pressure on the precise nerve points, which is the origin of pain. Reflexology sandals ensure regular blood supply to all your nerve endings, making your legs flexible and healthy.
7️⃣ Relief from the exhausting fatigue
Even physical ailments like cancer can be cured, through an acupressure footwear massage. A committed team of Swedish researchers have recently found that reflexology was able to provide relief from the exhausting fatigue that so many people with multiple sclerosis suffer from.
8️⃣ Improves Blood Circulation - Due to sedentary lifestyles, most of us do not use the muscles of our feet properly. Also, improper footwear like tight shoes hamper normal circulation in the feet.
9️⃣ Helps You Relax - After a long tiring day, the best way to relax is a soothing and relaxing foot massage, particularly after walking around when our feet tend to swell up.
🔟 Makes Feet Healthier - One easy way to keep your feet healthy and free from all kinds of foot problems is a regular foot massage. It helps stimulate the muscles around your feet, lessens stiffness and even reduces pain in the ankles or the heels.
Plus, a short 5-minute foot massage daily will make your ankles strong and flexible, thus preventing unpleasant ankle and foot injuries
We're so sure you'll love your Acupressure Slippers The Pressure Relief Foot Massage Slippers, you have a 30-Day 100% Money Back Guarantee if you don't.
OUR 5 POINT CUSTOMER PROMISE
30 Day Money Back Guarantee, ZERO risks in buying something and trying it out
Tracking number for every order
24/7/365 Ticket and Email Support. Please contact us if you need assistance.
Safe payments via Stripe® and/or Paypal
We use encrypted SSL security for 100% protection 
Click the "Add to Cart" button now!
Limited Quantity - Will sell out fast!
people are currently looking at this product
Guaranteed Safe Checkout